1147 Broadway, Fairfield, CA 94533 -6011 Call Us at (707) 428-4620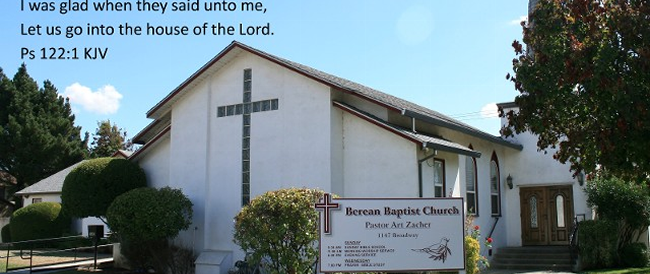 Thank you for taking time to visit our website.
Have you been searching for a church home?
Are you looking for a place of growth and encouragement?
At Berean Baptist Church there is room for you.
We believe the Bible is relevant for our lives and encourage you to come see what makes Berean Baptist Church a special place.
Sunday:
Bible Study 9:30 AM
Morning Worship and Children's Church 11:00 AM
Evening Service 6:00 PM
Wednesday:
Bible Study and prayer 7:00 PM
King's Kids (grade 1-8) 7:00 PM
Men's Bible Study and Women's Bible Study - call for details.
Visitation: Saturday 10:00 AM